2018 Western Bay Scholarship Recipients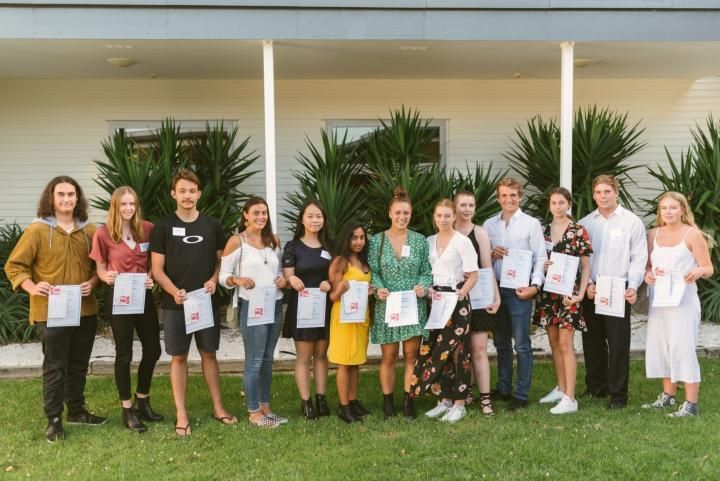 Scholarship winners, from left, Seamus McCann, Emily Rutherford-Smith, George Robinson, Haven Banks, Seeun Park, Dewni Fernando, Pianika Ormsby, Maia Burggraaf, Kerry Parkinson, Damian Torwick, Heidi Henshaw, Connor Garner and Kristin Brown.
The Bay of Plenty Education Trust has committed to gifting $108,000 from its coffers in its latest scholarship round, benefitting students beginning tertiary studies.
Thirteen Western Bay of Plenty students are amongst the recipients of the BOP Education Trust's recently awarded Science, Technology and Emerging Industries Scholarships. They are joined by five Eastern Bay of Plenty recipients, will all the students receiving $6,000, which will be paid in instalments during their study years.
Each year the Trust gifts scholarships to as many as 20 students graduating from coastal high schools and colleges between Katikati and Opotiki.
The latest WBOP recipients are: Heidi Henshaw and Pianika Ormsby, Tauranga Girls' College; Seeun Park, Bethlehem College; Connor Garner and Damien Torwick, Tauranga Boys' College; Haven Banks, Papamoa College; George Robinson and Dewni Fernando, Otumoetai College; Kristin Brown, Katikati College; Kerry Parkinson and Maia Burggraaf, Mt Maunganui College; Seamus McCann, Aquinas College; and Emily Rutherford-Jones, Te Puke High School.
BOP Education Trust chairman Roger Loveridge says as of the end of last year, 290 scholars had gained scholarships with a total value of $1,372,250. Colleges with more than 1,000 students are eligible for two scholarships. The Trust recently increased the scholarship amount from $5,750.
The scholarship winners are determined by the individual colleges / high schools.
The BOP Education Trust also supports the InStep Programme run by Priority One, and its Eastern Bay of Plenty equivalent, the ToiEDA. The board also has a Future Leaders Programme.